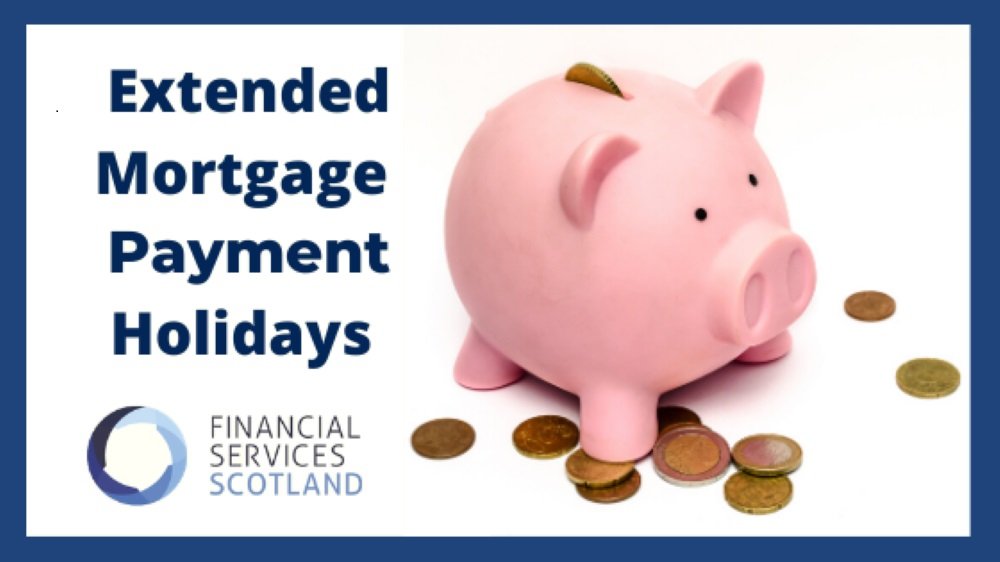 Extended Mortgage Payment Holidays
May 22, 2020 |  2years | NEWS AND INTEREST
Those struggling to pay their mortgage due to coronavirus are set to be able to extend their payment holidays for a further three more months, or start making reduced payments, in the most recently published proposals.
In March, lenders agreed with the Government that they would offer help with mortgages, which resulted in all mortgage holders being able to request a three month payment holiday if requested, without having to meet the normal payment holiday criteria. This allowed borrowers to have temporary break from having to make mortgage payments as many had been financially impacted by the Government's response to the Covid-19 situation.
Over 1.8 million mortgage payment holidays have been agreed with the lenders since the announcement in March, and the first of these will be ending in June. However, under new proposals, an extension of another three months will now potentially be available.
The Financial Conduct Authority's (FCA's) new draft guidance also includes an extension of the application period for a mortgage holiday until 31 October 2020, meaning that borrowers who haven't yet taken a payment holiday and are experiencing financial difficulty will be able to ask for one. Previously this was limited to 30th June, so this extension will be a welcome change for those who have been holding off to see when they might be able to return to work and using savings to meet payments.
The current ban on repossessions of homes will be continued until 31 October as well, meaning that the lenders will not be able to move forward with legal action and taking ownership of homes where payments have not been met.
What are the proposals?
Here is Martin Lewis with some information on the proposals:
At the moment, these proposals aren't confirmed and these will be under consultation until Tuesday 26 May. They should then be confirmed shortly thereafter.
I have listed the FCA proposals Martin had discussed in more detail below:
Customers on a payment holiday should be able to extend it unless this would cause massive financial difficulty. Lenders will be expected to continue to support customers who have already had a payment holiday where they need further help.
Lenders will be expected to contact customers on mortgage payment holidays and find out what they can repay and, for those who remain in temporary financial difficulty, offer further support. As part of this, firms will be able to confirm a further three-month payment holiday.
Those customers on a payment holiday who can afford to return to full repayment should do so. At the end of a payment holiday, lenders should find out if customers can resume payments and if so, agree a plan on how the missed payments will be repaid. This could include by extending the mortgage term.
Mortgage holders should be able to apply for a mortgage holiday until 31 October 2020. Customers who are making repayments now but get into financial difficulty later will be able to request a payment holiday until 31 October.
The current ban on repossessions of homes will be continued to 31st October 2020.
Payment holidays and partial payment holidays offered under this guidance should not have a negative impact on credit files. However, the FCA says that consumers should remember that credit files aren't the only source of information that lenders can use to assess how creditworthy someone is.
The FCA adds that these recommendations are minimum standards and that they don't stop firms from going above and beyond, for example, by offering reduced interest.
Are payment holidays a good idea?
There is no right or wrong answer to this question as your situation is unique to you.
Taking a payment holiday will ultimately cost you more money as you are not meeting the required monthly interest payments, and therefore you'll pay more interest over the remaining term of your mortgage. Your monthly payments will then need to increase to accommodate these, meaning you will pay a higher mortgage payment once your payment holiday ends.
However, where you are in financial difficulty and struggling to meet your monthly payments taking a payment holiday will ease the financial burden this crisis may have placed on you and buy you some time until your cash flow improves. Taking a payment holiday is ALWAYS a better option than missing your mortgage payments or defaulting on these. Missing payments/Defaulting will have a long-term impact on your ability to get credit and should be avoided where possible.
If you are able to meet your monthly payments, we would always recommend that you do so. Taking a payment holiday should be a last resort and only where there is genuine financial difficulty.
With the FCA's proposal and subsequent commentary on this, they have stated that this may potentially impact your credit worthiness so the long-term impact may be greater than the short term solution.
If you're unsure of your options or want to discuss the potential impact of these in more detail our Mortgage Advisers will be happy to help you chat these through. Get in touch with our team today:
Contact us
Alternatively, you can find us on Facebook and Instagram for our most up-to-date information.