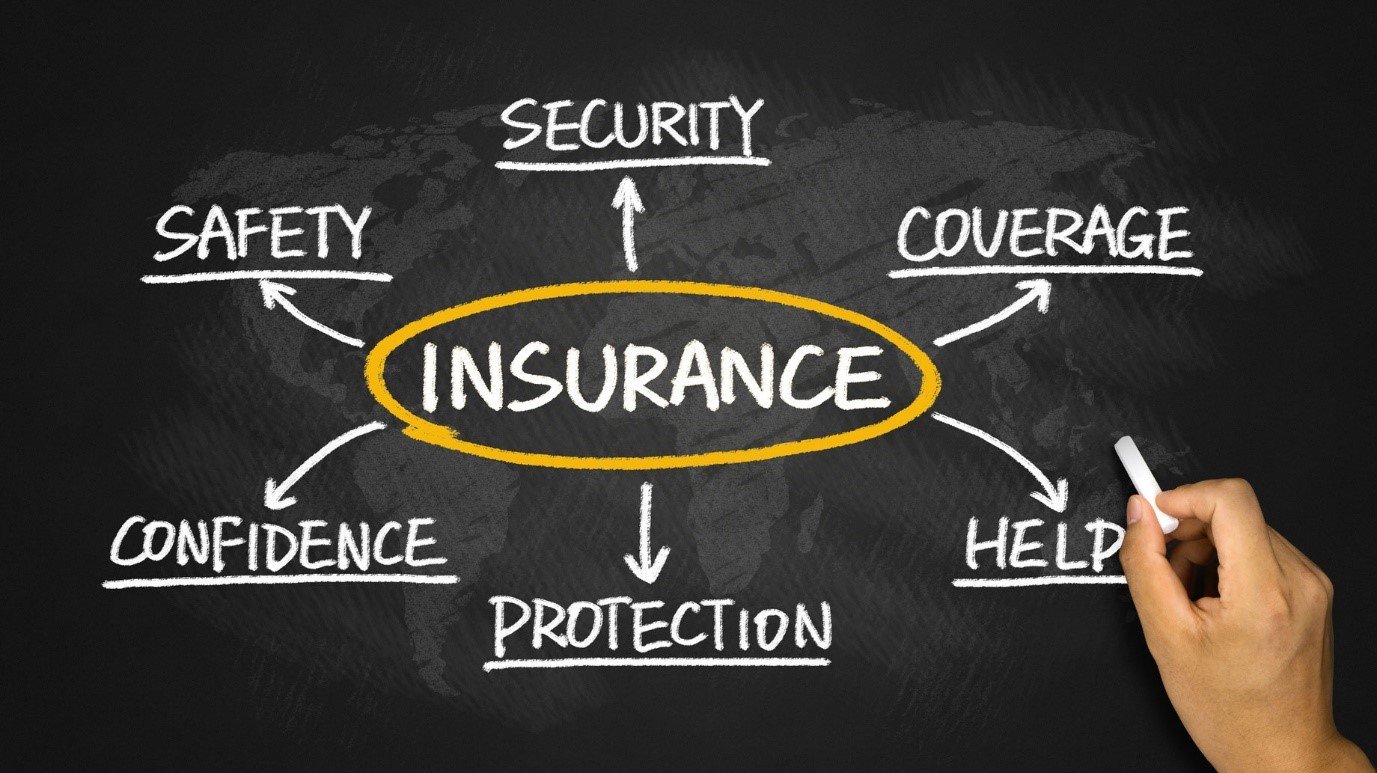 What is Life Insurance and do I need it?
August 27, 2019 |  3years | NEWS AND INTEREST
My official job title is Mortgage & Protection adviser – the mortgage part is fairly self-explanatory in that I give advice on Mortgages. But what does the protection part mean?
A lot of people will assume this means life insurance, and they'd be absolutely right – I can give advice on life insurance but giving advice on protection is so much more than that.
The Protection adviser part of my role means I can advise on how best to protect you, your family and your lifestyle and find a solution that's tailored to your circumstances that maximises your monthly budget.
There are different types of protection, or insurance as it's most commonly known, and depending on your circumstance you might only need one type of insurance, or a combination of them to cover varying needs. I am also able to give advice on business protection – however this is a subject for another day!
I've covered off the common types of Personal Protection below:
Life Insurance
The most commonly known type of protection is Life Insurance – and this does what it says on the tin – it protects your life.
Life insurance pays out a lump sum in the event of you dying. This can commonly be put in place to cover things such as funeral expenses or to cover a liability such as a mortgage and is the most commonly sought out type of insurance.
You are also able to place these policies in trust, meaning the monies can be paid out quickly and without hassle to your family during what might be a difficult time. This would also remove the money from your estate, meaning the funds don't fall into the probate process, which can be long and time-consuming, and can be used for what they were originally intended.
Critical Illness Insurance
Critical Illness insurance provides you with a lump sum in the event you're diagnosed with a specified critical illness which is covered as part of the policy. This gives you the peace of mind that if you become critically ill you have a lump sum that could pay off your mortgage or other liabilities or even adapt your home if your illness requires additional support around the home.
Many policies now also offer Children's Critical Illness as standard meaning a lump sum could be paid to you should your child or children were to become critically ill. Some providers will even cover unborn children in the womb.
As a parent myself I know this is every parent's worst nightmare, and this type of cover helps alleviate what could be a significant financial burden during what is already the most difficult time.
Income Protection
Income protection is one of the most overlooked types of insurance, but often a loss of income can be the most catastrophic to your family.
Protecting your income means that you would still receive an income in the event you become ill or injured and are unable to work. This can be set up to match your company sick pay policy, meaning there would be no interruption to your earnings as your income protection policy would begin to pay out after your company sick pay entitlement ended. This allows you to focus on recovering and becoming well enough to get back to work, without having to sacrifice your lifestyle or worry about how your bills would be paid.
With many families having very little savings nowadays – it is crucially important that we plan for a time where our income might stop. Many people believe they'll receive state benefits if they're unable to work, however Statutory Sick Pay is only available for 28 weeks. It is worth considering what would happen beyond this time?
Family Income Benefit
A Family Income Benefit is a type of life insurance – but rather than paying a lump sum to cover a large cost or liability, such as your mortgage, this type of insurance is designed to pay out a monthly benefit to your family.
This could be to cover a loss of income in the event of a partner dying, or even the additional cost of childcare if a stay-at-home parent was to pass away. You can choose the amount you feel you'd need, and how long you'd need this for, meaning you could provide cover for your children until age 18, or even for a partner until state retirement age.
So what does it mean for me?
Some people can think that taking insurance out when they're young is pointless – how many of us have thought "It'll never happen to me" and discounted the idea?
I have also had people contact me after being diagnosed with a medical condition looking to put a policy in place, and at this stage it is usually too late to protect them for the condition they've just been diagnosed with.
If you have an income, a liability such as a mortgage or loan or if you have a partner or children who are dependent on you, it's worth reviewing your protection arrangements to ensure you have the necessary cover in place.
For example, take John and Jane Smith, a young couple aged 32 and 30 respectively – both set to retire at age 68.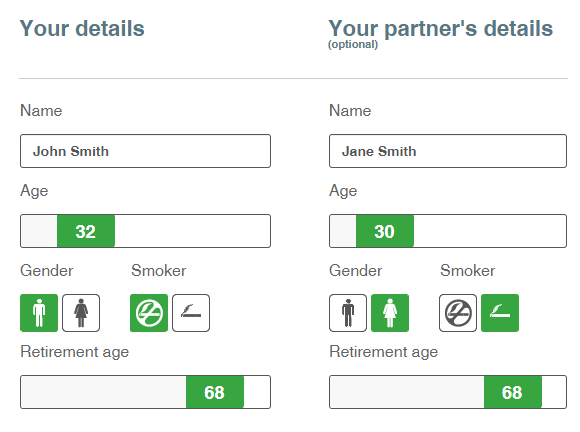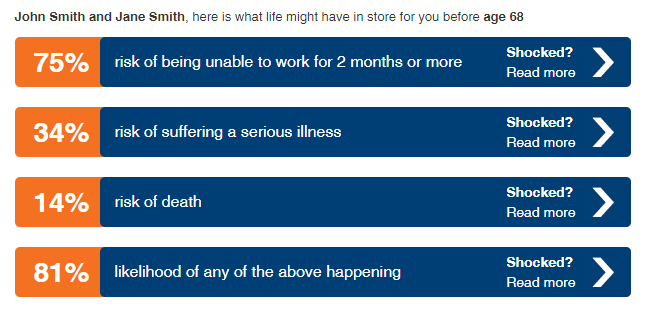 Before retirement – John and Jane have an 8 in 10 chance of being unable to work through illness or injury, being seriously ill or passing away. The highest risk to them both is being unable to work, followed by developing a serious illness. These figures are staggering and show a real need for both to have protection arrangements in place.

Insuring at a younger age can often mean lower premiums. Waiting until later in life is not only more costly, but also runs a higher risk of a medical diagnosis this could stop you getting cover, or place exclusions or limitations on any cover you do have.


What should I do now?
Think about your current lifestyle and situation – it may be worthwhile considering the following questions:

How would being ill or injured impact my ability to work?

Does my employer provide me with sick pay and what happens when I'm off for longer than this?
What would the financial impact be on my family if I was to become critically ill or pass away?
There are lots of different situations to consider and types of insurance available to you.

Each of these types of insurance have various providers who offer them – and each of these providers have various features and benefits of their policies.

Considering what type of insurance or insurances you might need, what provider fits best for you and what to prioritise within your budget can be overwhelming, confusing and time-consuming.

My job as an adviser is to take away the confusion of this, help determine what you need, what provider suits your needs best and get your policies organised and in place.

This can often be done in one appointment and this should be a relatively quick and painless process for you – I do all the hard work behind the scenes, giving you the peace of mind that you and your family are protected without all the hard work and paperwork that goes with it.

If you'd like to get some protection in place for you and your family or even review any existing protection arrangements get in touch to chat with me today. I offer a free protection review service - there is no charge for any advice on life insurance arrangements.


Get in touch today on: